dkopp 6.2
Ha vuelto a actualizarse
dkopp
, una herramienta sencilla para poder copiar archivos y hacer backups a un DVD o Blue-ray.
Nos permite hacer 3 tipos de backups:
Completo – Se copian todos los archivos seleccionados.
Incremental – Solo copia archivos nuevos o modificados y elimina los borrados.
Acumulativo – Idem al anterior pero no elimina ningún archivo, solo se acumulan.
Los archivos se respaldan automáticamente al lugar desde donde se copiaron, teniendo de cualquier manera la opción de restaurarlos a otro lugar.
En caso de trabajos largos, el mismo programa se encarga de ir pidiéndonos los DVDs necesarios.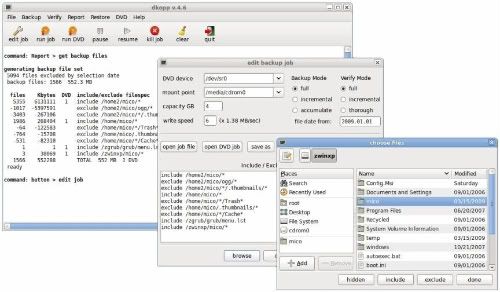 Les dejo la lista de cambios y los paquetes deb para instalar o actualizar a dkopp 6.2:
Bugfix: A BlueRay or DVD with a label containing blanks could not be searched because "\040″ was being substituted in the mount point written to /proc/mounts. This is now detected and blanks are being put back in.